Farid Kheradmand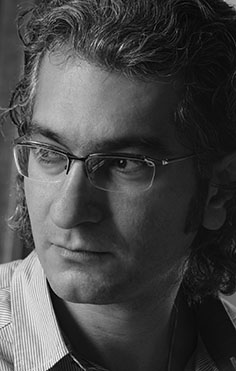 Farid Kheradmand is a percussionist, Setar player, musicologist, and composer from Iran. He began learning music at the age of 10 by playing Tombak and singing under the supervision of Abbas Dabestani. He then studied contemporary styles of playing Tombak, the Radif (Iranian classical repertoire of the Qajar era), as well as playing Setar. He later expanded his musical education with studying Shashmaqam (the music of Central Asia) in Tajikistan, as well as the Safavid era music. He has benefited from the knowledge and expertise of acclaimed musicians throughout his studies, among those are, Djamchid Chemirani, Jamshid Mohebbi, Ali Bayani, Majid Kiani, Daryush Talai, Jean During, Abdolwali Abdorashidov, and Arash Mohafez.
Farid's comprehensive knowledge in the field of rhythmic cycles and meter in the music of middle and near east, which was gained through his insightful self-study of ancient musical treatises and their analysis, made him one of the influential experts in the field. Farid is an acclaimed Tombak, Dayereh, and Setar teacher. His unique teaching style, in which singing old Tasnifs (Persian equivalent of the ballad) is accompanied with playing Tombak or Dayereh, inherently conveys to the students the knowledge and understanding of rhythm in Persian music. Over the past 27 years he has taught more than 500 students, from 3 to 70 years old.
Farid is one of the founders of "Sepehr" music ensemble, who has performed tens of concerts in Iran and its neighboring countries as well as in Europe. He is also one of the key members of the Neoclassical Ensemble of Tehran, which aims to revive forgotten compositions by Persian musicians before the Qajar era. Farid's recent album, "Khojasteh", is one of the first music albums with a composition based on this approach.
Awards and honors
- Honor Diploma for research on fundamentals of Iqae Cycles in The first Music Festival of Universities Students of Iran, Tehran, April 1998.
- Honor Diploma for research article, "Esthetic of Cycling System in Persian Music", in The Second Music Festival of Universities Students of Iran, Tehran, March 1999
- First prize in Mugham International Music Festival for "Sepehrkhani" performance, Baku, Azerbaijan, 2011.
Official Activities
- Regular member of Center of Preservation and Research of Persian Music (depended to IRIB), since 2000 till 2005.
- Regular member of Researchers Department of Iran Music House, since 2001.
- Artistic advisor of International Festival of Ney (Pipe). Niavaran Artistic Creations Foundation (NACF), September 2004
- Teacher of Soureh University, Since 2005 till 2007.
- Teacher of Tehran University, 2016.